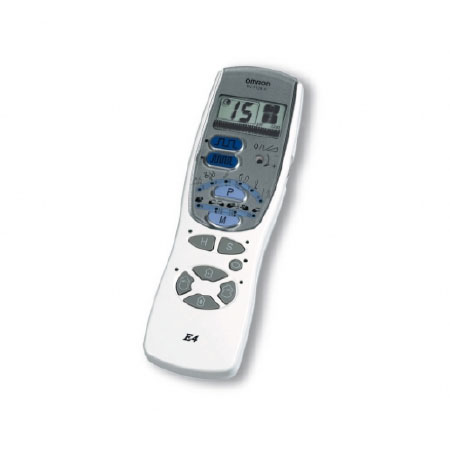 Omron E4 Professional TENS
Use intelligent pre-set programs to automatically treat your aches and pains
With its intelligent pre-programmed treatments the E4 is our most advanced model and includes a 'Hypermode' setting which gradually increases treatment intensity to the level you want. With a large display, settings are very easy to adjust. And you can even change settings (e.g. pulse rate) for individual pads to concentrate treatment where you need it most.
12 Automatic Treatment Programs
6 Different Treatment Zones. The 'Region' button allows you to choose particular areas of your body to work on (e.g. shoulders, sole, calf,and lower back).
Adjustable Pulse Rate
High Frequency
Low Frequency
What is in the box?
Electronic Nerve Stimulator
Set of Long Life Pads
Long Life Pad Holder
Soft Fabric Pouch
2 AAA (LR03) Batteries
Instruction Manual
Warranty Card
Drug-Free Pain Relief
OMRON's Pain Relievers help* you to relieve your pain symptoms, drug-free. It is based on TENS technology. It helps to:
block the pain message
stimulate the release of endorphins (=natural pain killers)
improve the blood circulation (as result of repeated muscle contraction and muscle relaxation)