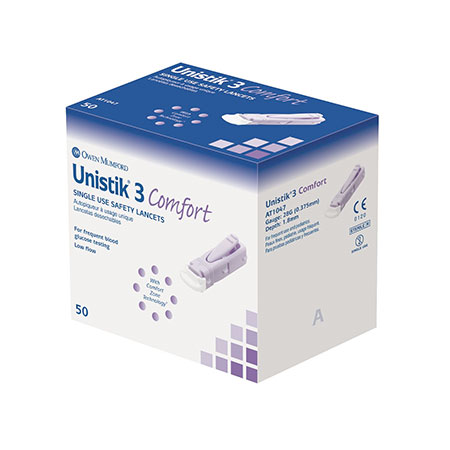 Unistik 3 Comfort
Unistik 3 is a range of single use devices ensuring the highest level of safety for healthcare professionals and patients.
All Unistik 3's now feature a series of 8 raised dots on the platform that stimulate nerve endings. This sends a powerful message of comfort to the brain thereby masking the weaker pain stimulus from the lancet.
Product Profile
Unistik® 3 has been developed to provide the most comfortable blood sampling experience.
Patented Comfort Zone Technology® gives a virtually pain free experience.
Unistik® 3 allows the user to decide exactly when to activate the device and how much pressure to apply.
The design makes it easy and comfortable to grip, giving the user complete confidence and control during the procedure.