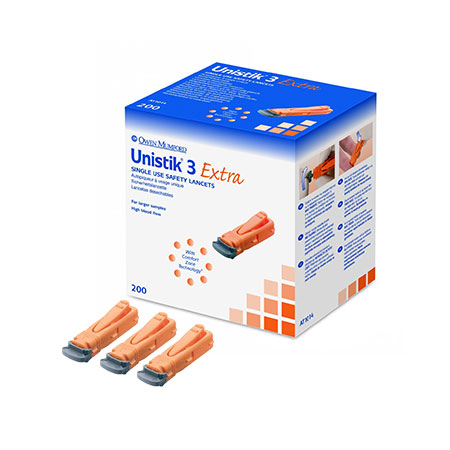 Unistick 3 Extra 21g Auto Lancets X 100
Unistik® 3: Single-use safety lancets that deliver maximum patient comfort
Unistik®3 single-use sterile safety lancets provide an easy and convenient way to test blood glucose levels. A simple one-click action activates the lancet and the use of unique Comfort Zone Technology® (CZT) provides the most comfortable blood sampling experience to the patient.
Independent clinical data* shows that Unistik® 3 safety lancets with CZT® reduce pain, resulting in a more comfortable experience for the patient. CZT® is comprised of eight raised pressure points on the patient end of the safety lancet. This patented technology sends a signal of comfort to the brain, helping to eliminate the pain associated with the fingerstick.
The Unistik®3 range features side firing, ergonomic designs giving healthcare providers complete confidence and control during the sampling procedure and a retractable needle protects users against potential needlestick injury.
The Unistik®3 range also features an indicator for accurate positioning and a lockout indicator that prevents and identifies attempts at re-use.
The Unistik®3 single-use safety lancet range offers a choice of five different depth and gauge specifications for use across all clinical environments and blood sampling requirements.
Benefits
Needle retracts immediately after use to reduce the risk of needlestick injuries
Comfort Zone Technology® maximises comfort for the patient during the samping procedure
Lock out indicator prevents reuse
Intuitive design – minimal training required
Indicator for targeted positioning