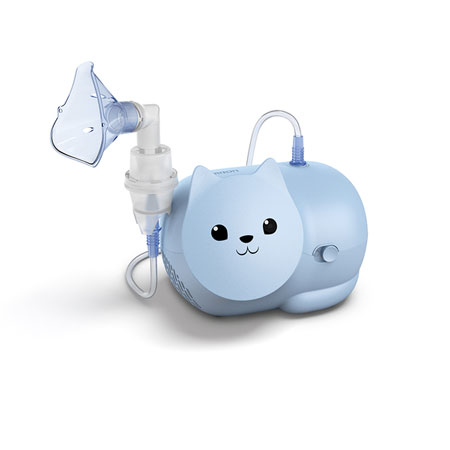 Omron Nami Cat C303K
A child friendly nebuliser that's been designed for making it easier to get your child using their nebuliser.

When your child has a nasty cough or difficulty breathing, the Nami Cat is a friendly face that can get them breathing easier. Its child friendly design helps you as a parent to get your child using their nebuliser – while its powerful compressor ensures they get the effective treatment they need.
Product Profile
Device Type: Compressor Nebuliser
Targeted respiratory airways: Lower Airways - Asthma - Bronchitis - Bronchiolitis - COPD
Age range: Baby, Child
Nebulisation rate: 0.35 ml/min
Medication quantities: 2 ml - 12 ml
Mains operation: Yes
Sound (dB): 58 dB
Particle size (MMAD): 3.4 μm
Weight (kg): 1.22
Item dimensions (mm): 148 x 180 x 135
What is in the box?
Compressor
Nebulizer Kit
Air Tube (PVC 100 cm)
Mouthpiece
Adapter
Adult Mask (PVC)
Child Mask (PVC)
Instruction Manual