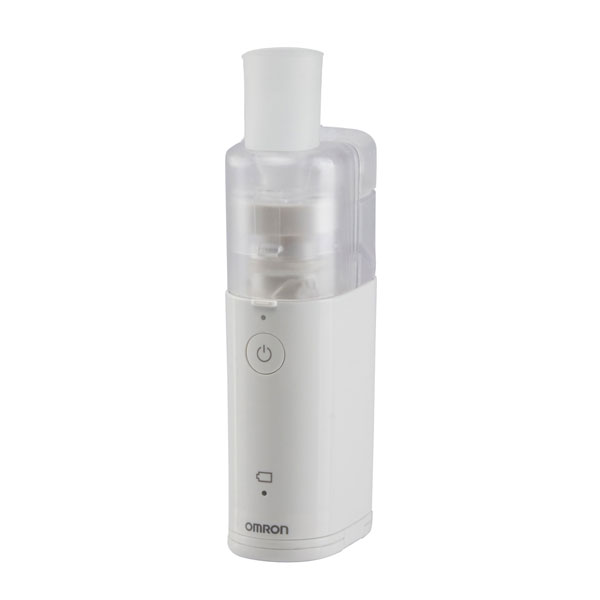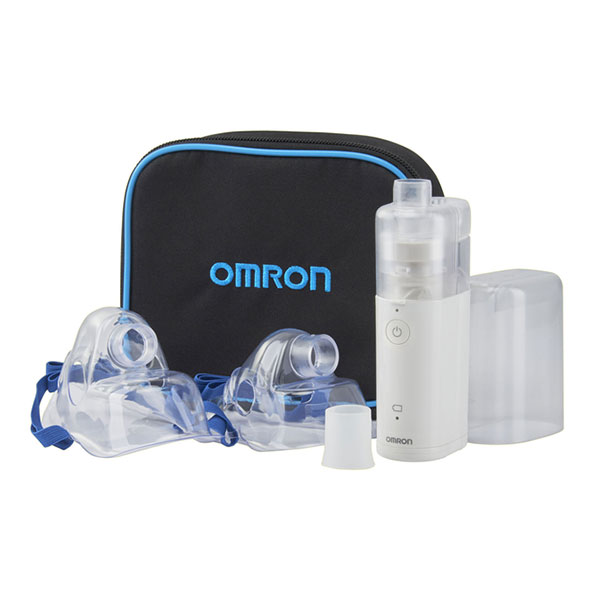 Omron MicroAir U100
The OMRON MicroAIR U100 is a small, portable nebuliser that helps to efficiently treat respiratory conditions from a simple cough to asthma.

The battery-operated MicroAIR U100 is compact, travel-ready and easy to reach for whenever you need it. The unique mesh technology makes it more efficient¹ and more comfortable to use than traditional nebulisers. It is virtually silent and the unique design enables usage in any position. Even while lying down, making it more comfortable for smaller children.
Features
Portable, pocket-size and battery operated (2xAA)
Silent, one-button operation enabling discreet use
Efficient medication deposition in the lungs
360° operation makes inhalation possible in any position
Caution:
This product is intended to be used with medication (prescribed by your GP) or Saline. Please note that these are not included with the purchase of this Nebuliser.
Product Profile
Device Type: Mesh Nebuliser
Targeted respiratory airways: Lower Airways - Asthma - Bronchitis - Bronchiolitis - COPD
Age Range: Baby, Child, Adult
Nebulisation Rate: > 0.25 ml/min
Medication Quantities: 1-10 ml
Battery Type: 2x AA Batteries
Mains Operation: Optional
Sound (dB): 20 dB
Particle size (MMAD): 4.5 μm
Device Weight (kg): 0,12
Item dimensions (mm): 38 x 60 x 130
What is in the box?
MicroAir U100 Nebuliser
Unit Cover
Medication Container
Mesh Cap
Mask Adapter
Mouthpiece
Adult Mask (PVC)
Child Mask (PVC)
Soft Pouch
Instruction Manual
Quick Setup Guide
2x Batteries (AA/LR6)
Learn how to use the device