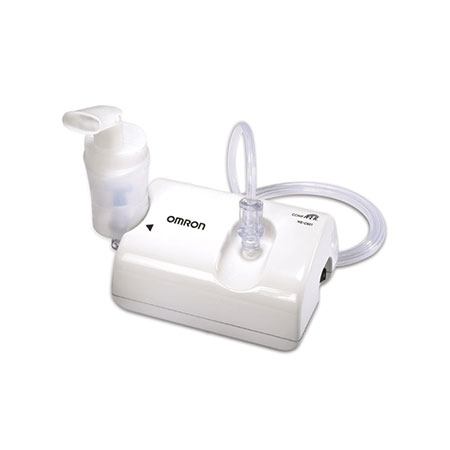 Omron Compair NE-C801
The CompA.I.R™ NE-C801 is a compressor nebulizer with a lightweight (approx. 270 g) and handy design. With a sound level of 46 dB, the CompA.I.R™ NE-C801 allows for a very quiet and comfortable operation. The CompA.I.R™ nebulizer kit also features OMRON's Virtual Valve Technology.
Product Profile
Small, light and compact device
V.V.T. nebulizer technology
Low sound level (46 dB)
Easy maintenance
What is in the box?
Compressor Nebulizer
Nebulizer V.V.T Kit
Air Tube (PVC, 100cm)
5 Pieces Spare Air Filters
Mouthpiece
Adult Mask (PVC)
Child Mask (PVC)
Nosepiece
AC Adapter
Storage Bag
Instruction Manual
Warranty Card